2016/09
Some short weaving courses are planned in the Autumn.
Summer course in experimental weaving at Sätergläntan is planned during 27/6-3/7.
Experimentell väv – struktur i lin och ull. 27 juni-3 juli med Maiko Tanaka.
I am giving a lecture about "Mobile and quick weaving" at Worlds Culture museum in Gothenburg" .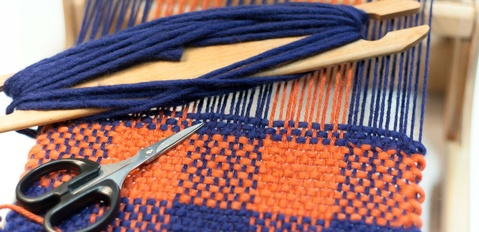 Världsstickcafé: Mobil och snabb vävning
Rigid heddle loom är en nätt och mobil vävstol som både nybörjare och erfarna vävare kan ha väldigt roligt med. Från uppsättning till färdig halsduk tar det knappt två timmar. Maiko Tanaka, utbildad handvävare och textildesigner, berättar om vävstolen och dess möjligheter.
Datum: 2016-04-06
Tid: 17:30 till 19:30
Plats: Världskulturmuseet
Arrangör: Världskulturmuseet, Studieförbundet Vuxenskolan och Sticknätet
I am giving a lecture about "Experimental weaving" during Weaving Symposium organised by Kultur i Halland – Slöjd, Väv i Väst, Slöjd i Väst/Västarvet och Studieförbundet Vuxenskolan.
VÄVSYMPOSIUM – VÅGA VÄVA VILT!
Välkommen till en dag där handvävning står i fokus!
Vävsymposiet hålls lördag den 19 mars 2016, kl. 9.30 – 16.00 på kulturhuset Blå Stället i Angered, Göteborg. Pris 450 kr inkl. lunch och fika. Anmälan senast 10 mars.
En dag för både nybörjare och erfarna vävare som söker påfyllnad, för dig som vill visa/berätta något, och för dig som vill träffa andra vävintresserade. Genom föreläsningar, workshops utställning och diskussioner inspirerar vi varandra. Vilka är vi som väver och varför gör vi det?
Föreläsare: Maiko Tanaka, Miriam Parkman och Monika Hallén.
Arrangerar gör Kultur i Halland – Slöjd, Väv i Väst, Slöjd i Väst/Västarvet och Studieförbundet Vuxenskolan.
För anmälan och mer info se Studieförbundet Vuxenskolans sida. Alt. telefon: 0522-65 33 33.
http://www.sv.se/avdelningar/sv-regionforbund-vastra-gotaland/digivav/vaga-vava-vilt/
2015/10/15
I opened a new website itomatextile.com
I am now giving weaving lectures at my new studio.
2015/10/1
I have left my studio in Lindholmen and moved to a new place at Stigbergsliden just across the Götaälv river.
2015/7/3
I have been at Sätergläntan Institute for craft for two weeks to give weaving lectures.
Sätergläntan is a amazing place filled with beautiful craft, people and nature.
2015/6/13
My works are now exhibited in "Vår textila konstsalong" at Landskrona Konsthall from 13/6-9/8.
Welcome!
2015/3/11
My new work, textile lighting is exhibited at a trade show, Swedish Light & Design 2015 in Zurich.
More info about the show, visit the link,  https://www.facebook.com
2014/12
Since autumn 2012 I have been working on reproductions of Paracas textiles together with other textile experts, commissioned by Oscar Lara, socially engaged artist.
2014/06
I received a scholarship "Byggnads kulturstipendium" from Byggnads.
2014/03/01
My exam work in introduced on the new number of Vävmagasinet, Scandinavian weaving magazine.
2013/11/26
My work is featured on Frameweb.com
http://www.frameweb.com/news/tactile-textiles–traditional-techniques
2013/05/31
I am exhibiting my degree work at Navet in Borås. Welcome!
Opening: 30th May, 18:00
Exhibition: 31/5-2/6, 11:00-16:00
2013/05/04
Välkommen till CONCOCTING, vår examens utställnig i Stockholm!
Opening and drinks: Thursday, 2nd May, 5 pm – 7 pm
The exhibition: 3rd May, 12 am – 4 pm
4th May, 11 am – 3 pm